SANCITY 10 LF
Low-floor, 10 meters long, city bus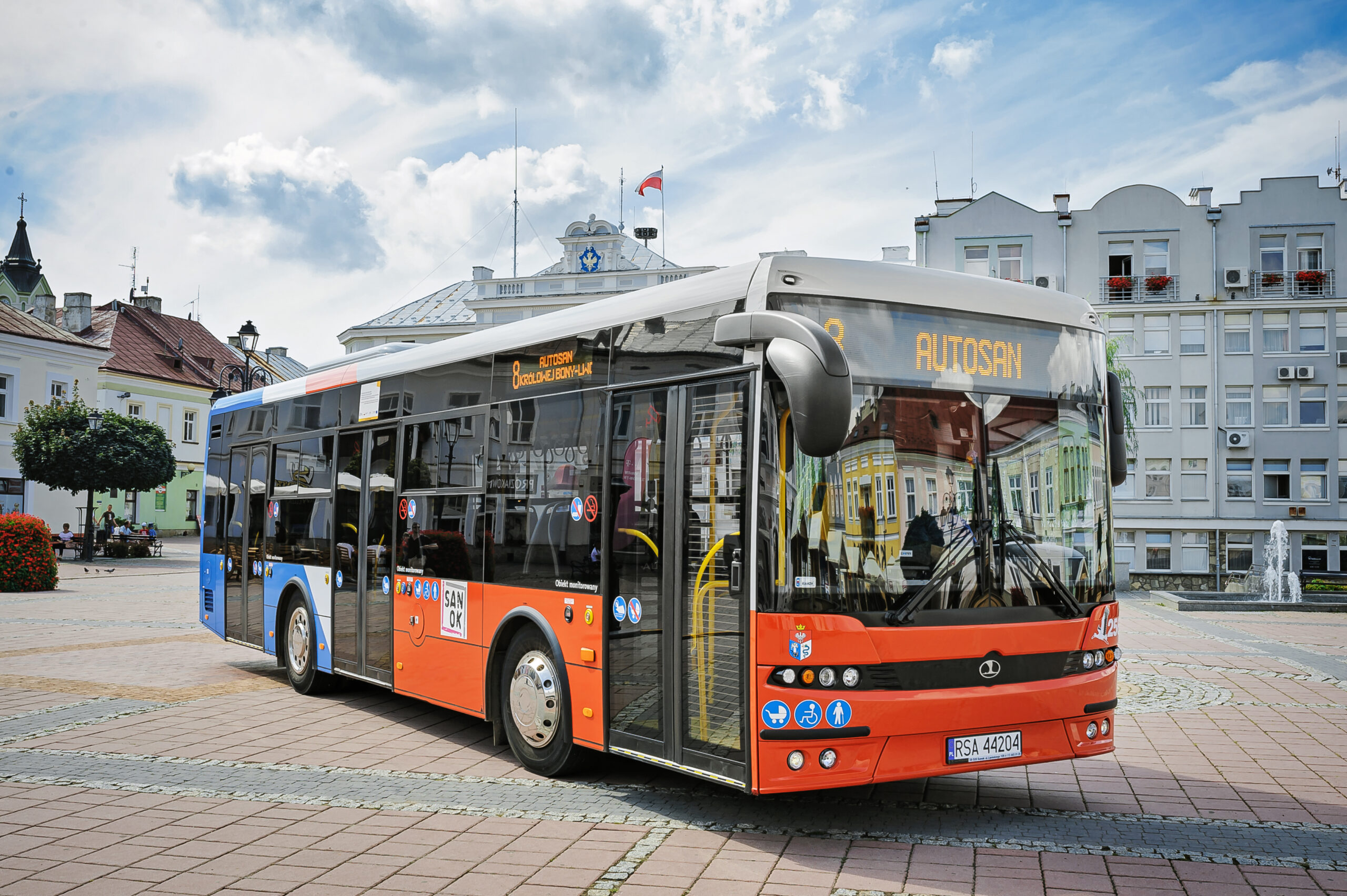 SANCITY 10 LF
Low-floor, 10 m long bus, designed to meet the growing demand of public city transport companies looking for the vehicles to caryout transportation on the lines with less passenger traffic and in the area of compact development with difficult maneuvering.
This is another model of the modular family of buses with the common name SANCITY intended for city passenger traffic.
The possibility of lowering the entrance steps with ECAS system makes that the passengers have easy and convenient access to the interior of the bus. Many modern solutions are used in the vehicle to make traveling safe and comfortable.
A three-dimensional stainless steel lattice frame integrated with a co-working framework of the body.
Driveline
Engine: CUMMINS B6,7E6E280B EURO VI, power 204 kW (277 HP).
Transmission: automatic with hydraulic retarder.
Axles and wheels
Rear axle: ZF.
Front axle: ZF, independent wheel suspension.
Driving wheels: tires 275/70 R22,5.
ECAS kneeling system
Brakes
Service brake: pneumatically controlled, disc-type, with EBS system.
Parking brake: manual with spring actuator, acting on rear wheels.
Steering system
Steering gear: with hydraulic power steering.
Steering wheel: regulated position.
Electrical system
24V, CAN, KIBES 32 system, bateries: 2 x 225 Ah.
The construction of the body is made of stainless steel rectangular tubes welded together. The outside paneling made of aluminium (sub-window-belt) and GRP panels (front and back walls, roof), bonded to the framework. Side flaps made of aluminium.
Heating
Water heating unit connected to engine's cooling system + convectors + heaters.
Ventilation
Electrically controlled roof hatches and slidable windows, ventilation unit in the front wall, exhaust fan
and blowing fan in the roof.
Air-conditioning of the passenger space
Passenger doors
Door system 2-2-2.
Front, middle and rear double-leaf, opening inwards, electro-pneumatically controlled from the driver's working place
Outside mirrors
Electrically controlled, heated .
Passenger capacity: seats 15 – 26, standing 53 – 81, total 79 – 96.
Passenger seats made of plastic with soft upholstery.
The ceiling covered with composite panels and sidewalls with laminated panels, floor covered with a non – skid lining.
Semi-closed type driver's cabin with door and FAP console.
Big platform opposite middle door for standing passengers and a wheelchair.
Manually operated entry platform for wheelchair in the middle door.
Handrails powder painted.
– Engine: CUMMINS B6.7E6E250B EURO VI, power 182 kW (247 HP)
– Front axle: ZF, rigid
– Air-conditioning of driver's cabin
– Drivers seat electrically heated
– Tilt windows
– Glued windshield, made of multi-layer glass, divided vertically
– Outside paneling divided vertically and horizontally
– Side panelling screwed, removable
– Chrome-nickel handrails
– Central lubrication system
– Oil refilling system
– Tires pressure and temperature monitoring system
– Automatic detection and fire-fighting system in engine's compartment
– Intelligent speed limiter
– CCTV
– Voice announcement system
– Passenger counting system
– Ticket vending machine
– Cash register stand
– WiFi
– LED destination equipment and ticket punchers set
– Alcohol lock
– Immobilizer
– ESC traction control
– Automatic dipped beam after dark
– Recuperation
– Additional batteries 2x75Ah


Marek Ruchlewicz
Commercial director
Woj. Lubelskie, Łodzkie, Małopolskie, Mazowieckie, Podkarpackie, Podlaskie, Świętokrzyskie, Warmińsko-Mazurskie