LIDER 10
The bus intended for intercity passenger traffic.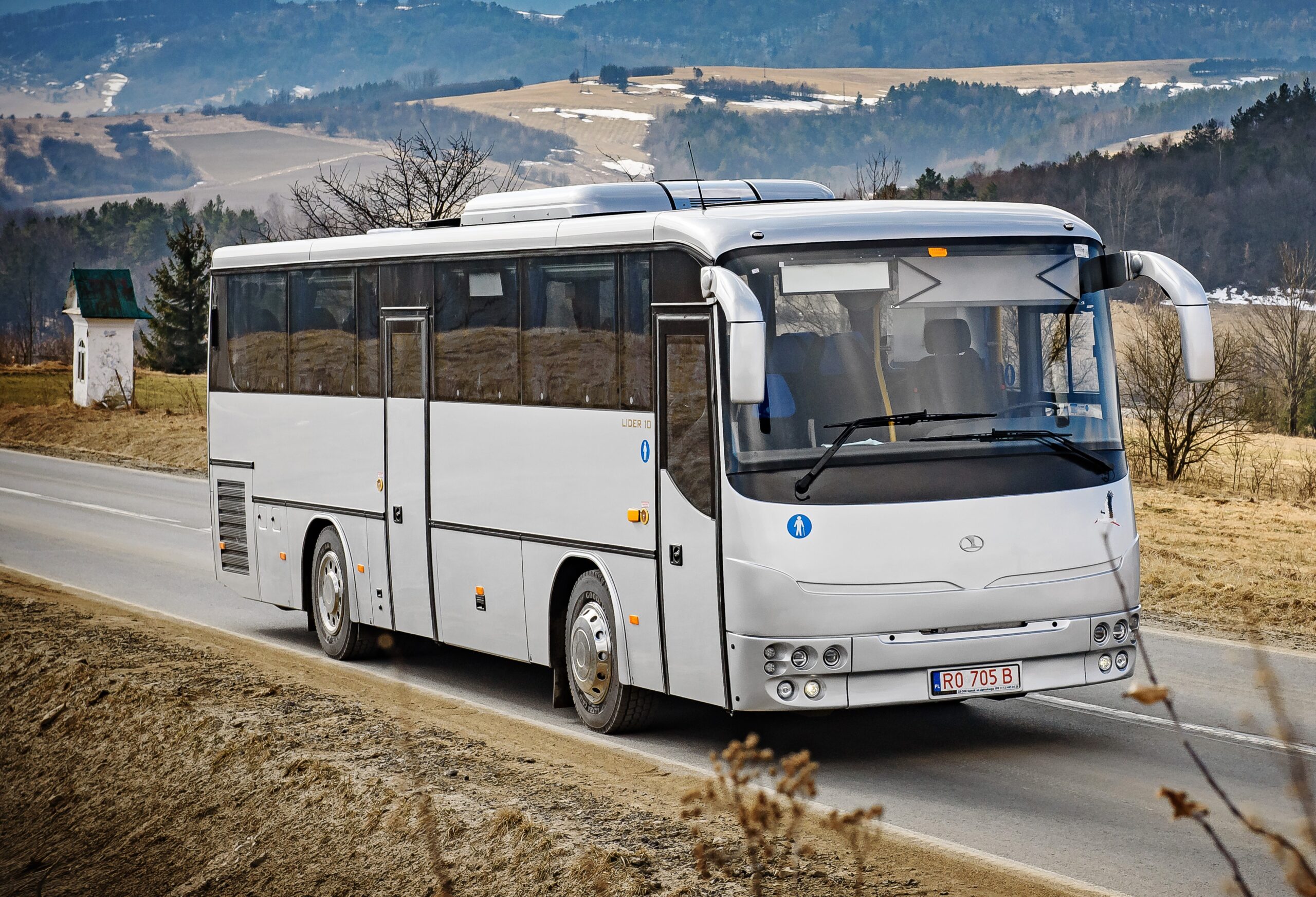 LIDER 10
The 10.8 m long bus, with proven design, intended for interurban and suburban traffic and for specialist tasks. Various bus applications are possible due to the diverse use of the interior, changes in the implementation of the floor, partition walls and doors and suitably selected equipment.
Configuration variability allows for maximum use of the vehicle according to the needs of almost every public transport company, either shorter as for longer routes.
Comfortable seats, air conditioning and many other devices installed on the LIDER 10 bus ensure safety and comfort for passengers and for driver.
Among the special-purpose versions, the bus for driver's training centers is very popular, equipped with a instructor's seat and control panel, additional mirrors and pedals and appropriate external marking.
A three-dimensional stainless steel longitudinal-lattice frame integrated with a co-working framework of the body.
Driveline
Engine: CUMMINS B6.7E6E320C EURO VI, power 233 kW (317 HP).
Transmission: manual with electromagnetic retarder.
Axles and wheels
Rear axle: ZF.
Front axle: ZF, independent wheel suspension.
Driving wheels: tires 10R22,5.
Brakes
Service brake: pneumatically controlled, disc-type, with EBS/ESC system.
Parking brake: manual with spring actuator, acting on rear wheels.
ECAS system
Steering system
Steering gear: with hydraulic power steering.
Steering wheel: regulated position with integrated lights switch.
Electrical system
24V, CAN, KIBES 32 system, batteries: 2 x 205 Ah.
The construction of the body is made of stainless steel rectangular tubes welded together. The outside paneling made of chrome-nickel sheet (sub-window belt) and GRP panels (front
and back walls, roof), bonded to the framework. Side flaps made of aluminium.
Heating
Water heating unit connected to engine's cooling system + convectors + heaters.
Ventilation
Roof hatches, ventilation unit in the front wall and exhaust fan in the roof.
Air-conditioning of the passenger space
Passenger doors
Front and middle single-leaf, opening outwards, electro-pneumatically controlled from the driver's working place.
Outside mirrors
Electrically controlled, heated .
Luggage space capacity: 3,4 m3
Passenger capacity: seats 41 – 43, standing 13 – 15, total 54 – 58.
Passenger seats with high back-rest, reclined, with armrests on the side of the passage.
Ceiling upholstered, sidewalls trimmed with laminated panels, floor covered with a non-skid lining, under-ceiling luggage racks.
Audio set.
– Automatic transmission with retarder
– Central lubrication system
– Tires pressure and temperature monitoring system
– Automatic detection and fire-fighting system in engine compartment
– Intelligent speed limiter
– Elevator for transportation a disabled person in a wheelchair and
a place for wheelchair mounting
– Reversing camera
– CCTV
– Outside door lightning
– Seats equipment (table + net + headrest with logo)
– Guide's seat
– Driver's seat electrically heated
– Cash register mounting
– Sidewalls upholstered
– 230V output sockets
– 24V socket
– LED antifog lights with cornering function
– CB radio
– USB charging ports in passengers compartment
– WiFi
– DVD audio – video set
– Refrigerator, beverage dispenser
– Electronic destination equipment
– Decorative wheel hub caps
– Automatic dipped beam after dark


Marek Ruchlewicz
Commercial director
Woj. Lubelskie, Łodzkie, Małopolskie, Mazowieckie, Podkarpackie, Podlaskie, Świętokrzyskie, Warmińsko-Mazurskie